Online store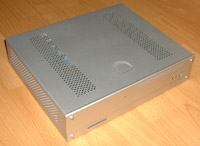 Although the idea of building a mythbox sounds daunting, its getting easier and easier. Originally it was intented to sell mythboxes online right here on mythbox.co.uk. However given the abundance of PVRs available on the high street, consumers wanting a pre-packaged solution are well catered for. For those wanting to squeeze out more functionality from their "always on", take the plunge as its definitely worth it!

I have included links to where you can buy all of the pieces for your mythbox, making it even easier for you to start enjoying Myth TV!


www.scan.co.uk
www.ebuyer.com
Scan and Ebuyer are useful places to get common parts that you need, including your Hauppauge DVB Nova-T TV card, wireless card, and hard drive.
www.crucial.com/uk/
A good place for memory, especially with their lifetime warranty.

www.mini-itx.com

www.icp-epia.co.uk


You'll need a decent motherboard, case, and DVD drive. Mini-itx.com are good for their large selection, while ICP have competitive prices.
www.ebay.co.uk
The best place to get a broadband modem is from ebay. People get them for free from their ISP, so there are plenty of them on ebay allowing you to get the model that you want for half the price.

www.tvcables.co.uk

www.farnell.co.uk

linitx.com


You will need cabling both from the motherboard to your backplate, and also from your backplate to your TV and sound system. For the latter, TV Cables and Farnell are both good places. For the motherboard headers you can either make your own custom cables and use the wiring diagrams on this site (check out Farnell for motherboard connectors and cabling) or you can pay a little more and get pre-built cables from linITX.
www.tribaluk.com
If you want a reasonably priced surround sound system to hook onto your Myth Box, I recommend Tribal's site.